I'm sure hanging things on walls isn't a big deal to anyone else in the world, but it's a pretty big deal to me. Each little hole in the wall is like a tiny commitment to staying put.
I'm always envious of those people who find awesome things at Goodwill. There is a great Salvation Army just around the corner from me. I've tried many a time to score some hidden treasure there. I walk in with a positive attitude, hoping the junk gods will smile upon me and I always walk out disappointed. One day, I went in and did the giddy laugh over this giant card catalog, Pottery Barn looking massive piece of furniture. I would have bought a burro to get the thing home. Unfortunately, it had a SOLD sign on it. The blue desk was my consolation prize.
In reality, everything on the wall is
neurotically
straight. I'm not sure when I became so anal about things being level, but I suspect it's one of those things that Sean brought into our marriage that has since rubbed off on me. Here it is, one less blank wall in our house: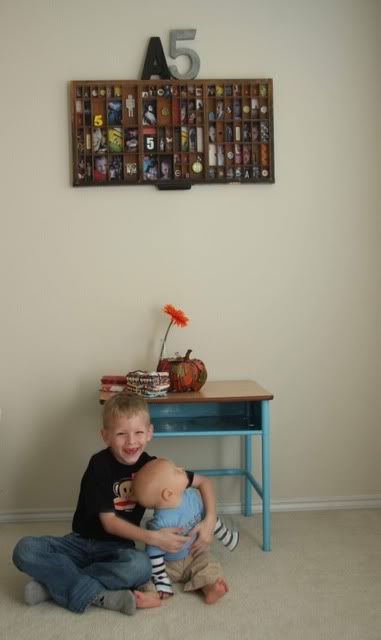 Another little thing. Titus is outgrowing this shirt. It still has length on the sleeves, but his little belly is starting to hang out the bottom. :) I took the first picture in September. It's straight out of the camera, no editting. The second picture I took today. It is also uneditted, but I used my speedlight. What a blessed little tool. Same kid, same room, same time of day. He's trimmed down some. Hm.